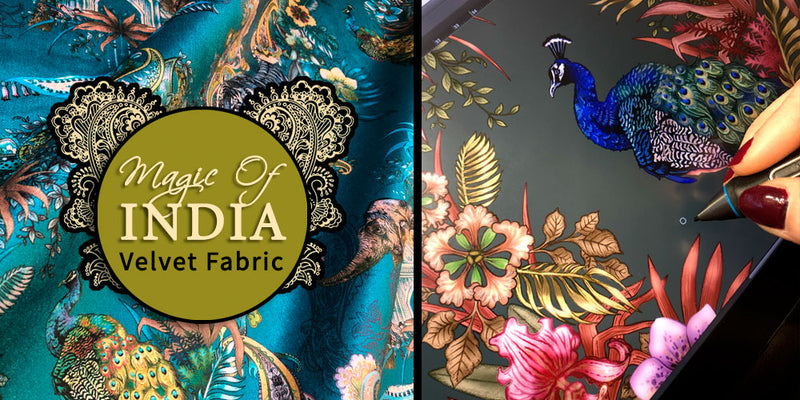 Designer Fabric for Upholstery and Soft Furnishings: Magic Of India by Becca Who
The Creative Process behind Designer Fabric, Magic Of India by Becca Who
Magic Of India is an opulent, decorative design and offered on velvet fabric for interiors. This designer fabric began life as detailed pencil drawings in a sketchbook, the aim being to celebrate the beautiful wildlife of India on a rich velvet fabric for upholstery, curtains, blinds and statement home decor.
Each artwork element featured in the fabric design was carefully hand drawn, with pencil details intended to form the basis of a design which offers much to discover in the details. The elements were each created separately, with an initial rough sketch made as to ideas for how the elements might be arranged on the seamless design for a composition which suits the end uses for interiors and soft furnishings. 
Every element drawn in pencil, the second stage was to scan in the drawings at high resolution and to work on them digitally. Using a graphics tablet and pen, the drawings were painted digitally in full colour using a variety of techniques. The aim was to keep the detail of the pencil strokes visible. Hand rendered painterly strokes fill the artwork for a result which offers the opportunity for rich colour palettes.
On completing the digital painting stage and having final artwork elements, the next stage in the creative process was to work on the composition. To create the seamless pattern tile, the original rough plans were considered and exploration of positioning and scale of elements began, until the composition began to take shape. Pencil drawings were brought back in for their linework to form background pattern and to connect the elements adding further layers of decoration to the design.
 As the design was destined for fabric for interiors, scale and positioning is always carefully considered, aiming to offer many creative possibilities for uses such as upholstery and soft furnishings. 
Colour palettes were explored and each was developed with the intention being to offer expressive colour ways which can be coordinated with a variety of interior design schemes.
Sariska
The hand drawn artwork of Peacocks, Bengal Tigers and Elephants sit on a rich black background, with highlights of Blues, Lime and Rust. This colour way is inspired by the night sky at Sariska, loved for it's clear and starry views. For lovers of dark decor in interiors, the Magic Of India velvet in Sariska compliments a range of interior colour schemes from the darker hues, to earthy tones, neutrals and blue palettes. An exhilarating fabric design for statement soft furnishings and upholstery uses. 
Samples available in the Sariska colour way.
 
Peacock
The Peacock colour way is a beautifully vivid Teal with highlights of Lime. A perfect way to inject vibrant areas of colour into interior schemes of cool hues of blues or greens, whilst also complimenting neutrals and black. This statement fabric design makes for stunning soft furnishings and upholstery uses. 
Samples available in the Peacock colour way.
Lotus
This Lotus colour way is a beautiful strong Pink with touches of Blues. A perfect choice for those who enjoy colourful interiors. Lotus compliments a range of home decor schemes, working particularly well with cooler hues and amongst lighter pinks. 
Samples available in the Lotus colour way.
Turmeric
Every opulent detail is striking on a warm yellow-orange background, with highlights of Red and striking Black details. The Turmeric colour way injects warmth into an interior and works well with natural hues, warm toned interiors of earthy colours and sits strikingly amongst black.
Samples available of the Turmeric colour way.