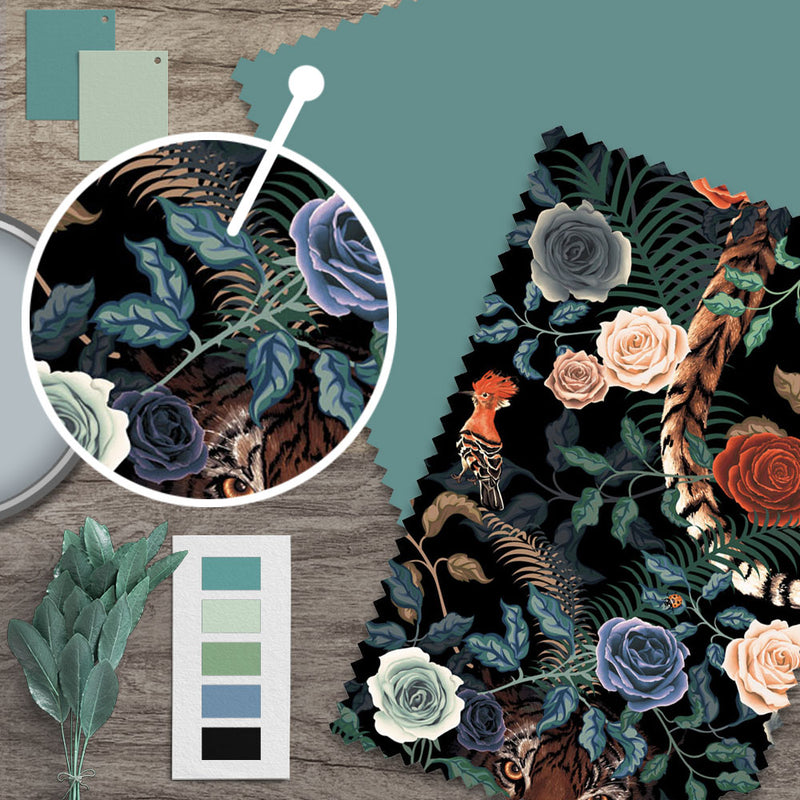 Custom Colour Plain Fabrics from Becca Who: Match To Your Chosen Patterned Fabric For Beautifully, Unique Interiors
Bespoke Coordinating Plain Fabrics from Becca Who: Match To Your Chosen Patterned Fabric For Beautifully, Unique Interiors
In the world of interiors, the designer fabric you choose for your upholstery and soft furnishings can lead the entire aesthetic of a room. Fabric colours and patterned designs play a vital role in creating a cohesive and visually pleasing space. If you've ever had the perfect patterned fabric in mind, but couldn't find the right plain fabric to match, you'll be pleased to know that Becca Who offers a custom matching service – for you to transform your dream coordinating upholstery and soft furnishings into a reality.

Choosing a Coordinating Plain Fabric to sit alongside a Patterned Fabric is an enjoyable process where you can really get creative about your interior project. Whether you're looking for unique upholstered furniture, or quality bespoke soft furnishings to perfectly suit your interior scheme, the finished result of featuring coordinating fabrics can bring such beautiful impact to your space and is entirely unique to you.
Select Your Becca Who Patterned Velvet Fabric and We Will Match to Any Colour in the Design for Your Bespoke Coordinating Plain Velvet Fabric
Having selected a patterned Becca Who Velvet Fabric in your preferred design and colour way, you may wish to use a bespoke plain fabric alongside it, to perfectly match with colours in your chosen design. This could be for contrasting panels, piping or buttons on an upholstered piece, tie backs for curtains, trims for cushions – or anything else that your creative mind can imagine!

By choosing our Bespoke Coordinating Plain Velvet Fabric, you can enjoy continuity of texture, pile and sheen across the whole project in both your patterned and your plain velvet fabric - as the patterned and plain will be of the same base cloth.
We are very happy to accommodate printing your desired plain colour and will liaise with you personally to ensure that the exact colour is supplied for your plain fabric.
The beautiful upholstered chair and footstool below, were created by Unseen Icons of Writtle, Essex - Featuring Becca Who Patterned Fabric, Garden Treasures in Topaz, with a Bespoke Matching Plain Velvet in the Yellow of the birds in the design. 
The Art of Personalisation – Ensuring That You Can Enjoy the Perfect Finished Result for Your Interior Project
Your home is a canvas, and your upholstery and soft furnishings fabrics are the colours and patterns that bring your interior vision to life. We understand that sometimes, your vision requires a specific colour to perfectly complete your project – this can be a hue which isn't readily available in standard fabric collections. It could be the exact vibrant Yellow of a birds breast from Garden Treasures – or the Dusky Pink of a petal from Bengal Rose Garden.

This is where our Custom Matching Fabric Service comes in, allowing you to pick the exact shade from a patterned design that you love, and have it produced on the same sumptuous velvet for that perfect finished result.
How To Order Your Bespoke Matching Plain Fabric – Offering you Personal Attention whilst Keeping it Simple
Our Custom Matching Fabric Service is designed to ensure that you receive personal attention where you need it, in the selection of bespoke plain fabrics that seamlessly match the colours in your chosen patterned fabric. Here's a glimpse into the process:
1. Select Your Patterned Becca Who Fabric:
Begin by choosing your favourite patterned art fabric from the extensive collections of designs. Becca Who fabric collections are creatively developed and carefully curated to offer you a wide range of design choices and colours, from dreamy pastel florals or colourful celebrations of nature to striking bold patterns. For advice on choosing the best patterned designer fabric for your space, see our blog post: Elevate Your Living Space: How To Choose Designer Fabrics.

Ensure to order samples of any designs and colour ways that you are interested in – Seeing the colours and qualities of the fabric in your hand is vital to knowing which is perfect for your project.
2. Choose the Colour in the Patterned Design, that you would like for your Plain:
Having viewed the samples, and having selected your favourite patterned fabric, now it's over to you to decide your perfect colour palette! This bespoke service really allows you to explore your own creativity and to come up with a unique combination of coordinating fabrics that you will love in the finished project.

Of course, we are always happy to help you and to offer our suggestions should you prefer – Simply get in touch with us via our Contact Us Page and we'll happily chat about your project.
3. Order Your Matching Plain Fabric:
You will find our Bespoke Matching Plain Fabric on each of the Becca Who Fabric Collection Pages. Simply add the required number of metres to cart – remembering to select FR if you wish for your fabric to be treated with Flame Retardant for Upholstery uses. When placing your order, you can choose to either add a note at checkout to advise us of your required colour ie. 'Plain Indigo from the background of Garden Treasures in Indigo' - or, if you prefer, send us an email on info@beccawho.com and we will liaise with you to ensure that we have your exact correct colour requirement.
The stunning chair and footstool below were created by Comfort & Joy Upholstery, of Warrington - Featuring Becca Who Patterned Fabric, Rainforest Rush in Tropic, paired with Matching Plain Velvet Fabric in the Orange of the birds in the design. 
Transform Your Home with Becca Who Fabrics for your Upholstery & Soft Furnishings
Your home is a reflection of your unique taste and personality. The Becca Who Bespoke Matching Fabric Service allows you to create a space that is a true representation of your individuality, paying attention to details, ensuring that your living space is an authentic reflection of your unique personality. There's no need to settle for close matches when you can create a perfect harmony between your patterned art fabric and a bespoke plain fabric to match your exact preference.

In a world of mass-produced, cookie-cutter options, it's the unique touches, personal to you, that set your living space apart. These bespoke Becca Who fabric options allow you to infuse your interior with your distinct character and style. We understand that the art of personalisation goes beyond simply picking furniture and decor items. It's about creating a unique space that reflects your personality and individuality. Your chosen fabrics are an essential element in this process, and by offering Bespoke Plain Fabrics to compliment your favourite Becca Who patterns, we help you to achieve your perfect result.
Elevate Your Interior to Create Your Beautifully Unique Living Space
By coordinating your fabric choices, you're not just personalising your upholstery and soft furnishings; you're elevating your entire interior design of your space;

Expression of Style: Your home interior speaks volumes about your style. With customised fabrics, your decor can become a true reflection of your taste and personality.

Coordinated Aesthetics: Achieve a seamless, coordinated look in your space by matching your fabrics to the rest of your decor. The result is a harmonious and visually pleasing interior.

Unique Artistry: Your space is transformed into a work of art. Every piece of furniture upholstered with a unique, creative approach, tells a story of creativity and individuality.

Timeless Enjoyment: Bespoke interiors aren't just about style; they're about enjoying the space. Each time you spend time in your created space, you will feel at home with the personal touches you've brought in. You're creating something of timeless appeal, which can be enjoyed like a work of art.
Colour Harmony in Upholstery and Soft Furnishings: Expert Tips for Selecting Matching Fabrics
Fabrics play a pivotal role in the overall aesthetic of your home. The choice of fabrics and colours can transform your space into a harmonious masterpiece or leave it feeling disjointed. One of the most challenging but rewarding aspects of interior design is achieving colour harmony within the space. Understanding the importance of this balance, we're here to share expert tips on selecting fabrics to create a unified and visually appealing interior.

Colour harmony in fabrics is all about creating a visually pleasing, balanced, and cohesive look in your living space. It's the art of choosing colours that work together, enhancing the overall atmosphere and aesthetics of a room. A harmonious colour palette elevates the beauty of your interiors, making them more visually appealing – and effective colour harmony can create a sense of balance and tranquility in a room, positively influencing your mood. Coordinated colours guide the eye seamlessly from one element to another, creating a sense of unity throughout the space, whilst your choice of colours communicates your personal style and design sensibilities.
Expert Tips for Selecting Matching Patterned and Plain Fabrics for Interiors
Achieving colour harmony in your interior doesn't have to be a daunting task. Here are some valuable tips to help you select matching fabrics that create the desired harmonious effect:

1. Consider Colour Theory: Brush up on the basics of colour theory. Complementary, analogous, or monochromatic colour schemes can help you select colours that naturally work well together.

2. Fabric Sample Swatches: Don't rely on computer screens alone. Request fabric samples from Becca Who to see how the colours look in your space. Lighting in your space can greatly affect how a colour appears.

3. Start with the Patterned Fabric: If you have a patterned fabric in mind for your project, use it as your starting point. Pick a colour from the pattern to serve as your base or anchor colour for the plain fabric. This ensures a direct link between the two.

4. Consider Layering Shades: A monochromatic colour scheme, which uses different shades of the same colour, can be incredibly elegant. It creates depth while maintaining harmony.

5. Seek Professional Advice: If you're unsure about your colour choices, consider consulting an interior designer or get in touch to speak to us about your project. Valuable insights and guidance can be offered to help you in your choices.

6. Take Your Time: Don't rush the selection process. The right colour harmony may take time to develop, but it's worth the effort in the finished result.
Becca Who Patterned and Plain Fabrics - A Palette of Possibilities
Becca Who fabrics for interiors offer you an extensive palette of colour possibilities for both patterned art fabrics and plain fabrics, enabling you to achieve perfect colour harmony in your interiors.

By choosing a Coordinating Plain from Becca Who, your dream upholstery and soft furnishings fabrics can be just an idea away! Start your journey of creating personalised, perfectly matched interiors, and elevate your living space to new heights.

Get in touch with us today if you wish to discuss your ideas.