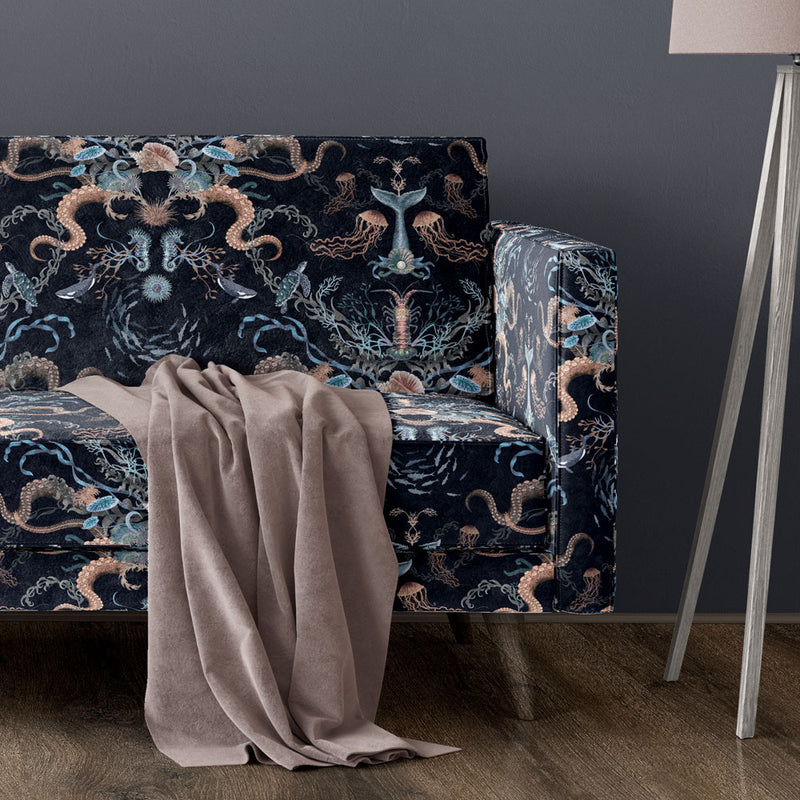 How To Create the Most Stunning Coastal Interior - Featuring Captivating Soft Furnishings and Upholstery
Coastal Interior Design: Elevating Coastal Decor to Bring the Ocean Home
The best of coastal interior design evokes a sense of tranquility, freshness, and the powerful natural beauty of the ocean. Coastal inspired interiors allow us to bring the soothing ambiance of the seaside into a living space, creating an elegant escape that feels like a perpetual holiday.
If you are seeking inspiration for a coastal property and looking to bring your love of the sea into the decor, let's explore the world of coastal interior design and how our choices can play a pivotal role in elevating a space to bring the ocean home.
Whilst weaving the very essence of coastal living into the fabric of a home, good interior design for coastal homes goes beyond the clichés of seashells and nautical decor; to create something truly special which resonates with the location, it's about crafting a space that mirrors the serene yet powerful beauty of the coast. It's about seeking inspiration from the tranquil rhythms of the sea, the colours of the ocean, and the symphony of waves crashing against the shore.
A beautiful coastal room, ought to honour this special location, by offering a sense of tranquility, a place where stress dissipates and relaxation takes centre stage. It's an interior design aesthetic that invites you to kick off your shoes and sink into a plush sofa while watching the sun dip below the horizon. A coastal interior style should embody a relaxed and inviting atmosphere which is perfect for beachfront houses, coastal cottages and holiday homes.
Bringing the Seaside Home: Inspirations for Coastal Interiors
An elegant coastal design aesthetic is achieved by embracing the colours, textures, and natural elements of the seaside. Soft, sandy neutrals create a serene backdrop reminiscent of sun-kissed beaches. Crisp whites evoke the purity of sea foam, while various shades of blue, from the palest sky blue to deep ocean hues, infuse your space with the calming tones of the sea.
Natural materials are often a cornerstone of coastal interiors. Weathered woods and rattan pieces bring the rustic charm of beachside cottages into your home. These materials add warmth and a touch of nostalgia to the interior, making it feel cosy and inviting. These natural elements juxtapose beautifully with luxurious textures, adding an opulence to the space and tying together the many moods of nature for an interior which is calming and has a sense of freedom and indulgence.
Light in the interior is of the utmost importance in coastal home decor. Large windows and open floor plans allow for views across the ocean and surrounding landscape, whilst maximising natural light, creating an airy and spacious feel. Luxurious curtains can elegantly frame these precious views of the outdoors. A seamless connection with nature blurs the lines between indoors and outdoors, allowing us to experience the beauty of the coast from the comfort of a living space.
The Fundamentals of Coastal Interior Design: Creating a Coastal Haven
Coastal interior design draws inspiration from the seaside and aims to create an atmosphere which reflects our connection to the ocean – whether it be tranquil, airy, and inviting – or a sense of confidence, freedom and indulgence. Here are some fundamentals of coastal interior design:
Colour Palette: Coastal interiors can feature a soft and soothing colour palette, or rich and luxurious hues. Shades of blue, from pale aqua to deep navy, are commonly used to mimic the ocean, while sandy neutrals and crisp whites evoke the beach. Green hues inspired by coastal vegetation can also be incorporated. Incorporate marine inspired colours like bright turquoise and coral pink as accent hues. These vibrant colours can bring energy and contrast to the otherwise soft palette.
A Mix of Natural and Luxurious Materials: The interior decor of coastal homes often embraces natural materials like weathered wood, rattan, jute, and seagrass. These materials add warmth and texture to the space and evoke the relaxed feeling of a beachfront cottage. Adding in luxurious textures, such as velvet and silk, create a beautiful juxtaposition which brings layers of interest into the space.
Light, Airy Spaces: Open, airy spaces are essential in coastal design. Large windows, French doors, and glass sliders are used to capitalise on the natural light and to provide a seamless connection between the indoor and outdoor spaces. Maximising the natural light is crucial, with homes with ample windows and mirrors strategically placed to reflect light, make spaces feel larger and offer that feeling of freedom.

Breezy, Open Layouts: The layout of furniture within a coastal living space should promote an easy, breezy flow. Rather than overly formal arrangements, create conversation areas that encourage relaxation and interaction. 

Layered Textures: Beach side homes often feature layering of different textures. Layering different elements such as soft cushions, woollen throws, plush rugs and woven baskets, creates depth and adds visual interest to the space.
Nautical Elements: While coastal interior design is much more than just nautical decor, some nautical elements can be tastefully incorporated. Stripes are often a popular choice, with patterned fabrics offering a way to feature the inspirations of the ocean.
Comfortable Furnishings: Coastal properties ought to prioritise comfort and relaxation. Furniture is often upholstered in tactile fabrics that are both stylish and comfortable.

Access to Outdoor Spaces: Coastal living often involves easy access to outdoor spaces like patios, decks, or porches. Consider creating a seamless transition between indoor and outdoor living areas via the use of coordinating decor and bi folding doors.
Personal Touches: As with all interior styles, we should look to add personal touches to make our coastal interior unique. Incorporating items collected from the local landscape, beach vacations, family photos, art or heirlooms, all infuse personality into the interior design.
Coastal interior design is not a strict rulebook but rather a flexible framework that can be adapted to suit personal style and preferences. Whether you live by the coast or simply want to bring the ocean vibes into your home, coastal inspired design allows for creativity and personalisation.
Ocean Treasures: A Designer Fabric Which Honours the Powerful Beauty of the Ocean
If you're seeking to transform your coastal property into a beautiful haven with unique special touches, Ocean Treasures Velvet Fabric offers a dramatic homage to coastal living, bringing the ocean life to soft furnishings and upholstery in the space.
Perfect for coastal properties, Ocean Treasures Velvet offers more than the nautical prints we often see. Ocean Treasures is a sumptuous designer fabric which truly captures the essence of coastal living in a richly artistic design. Intricate marine inspired artwork, arranged in an expressive yet elegant composition, brings the ocean's wonders right into the interior, creating a wow factor in a room.
A versatile fabric, Ocean Treasures Velvet makes for fabulous, statement soft furnishings, curtains, blinds and upholstery. Covered in this tactile velvet, a sofa becomes a work of art, adorned with painterly marine motifs. This fabric transforms seating into focal points amongst the room, statement pieces which add elegance and character to the space.
For curtains and blinds, Ocean Treasures Velvet brings an irresistible drama and sophistication, showcasing the flowing composition of this timeless fabric design.
Inspiration for Coastal Interior Decor Featuring Ocean Treasures Velvet Fabric
The Ocean Treasures design on velvet is available in four elegant colour ways. Each colour palette was carefully developed to offer perfectly compliment the interior design of a beachside property. Whether you choose the soft, green and coral of 'Coastal', the mysterious depths of 'Deepwater', the bold vibrancy of 'Blue Bay' or the drama of 'Red Reef', this designer fabric is filled with sea creatures and underwater plant life for beautiful pieces which allow you to let your imagination run wild, creating a space that reflects your own personal connection to the ocean and your love for coastal beauty.
Ocean Treasures Designer Velvet Fabric in Coastal Soft Green
Coastal is a dreamy, elegant colour palette with soft peachy coral hues and ivory details on a background of pale green. Coastal is a beautiful choice to work within a pastel or neutral interior colour palette and combines well with natural textures and wood finishes.
Ocean Treasures Designer Velvet Fabric in Deepwater Dark Muted Blue
Deepwater is a colour palette of deepest dark blue, with artwork details in soft apricot amongst a myriad of oceanic blues and silvery grey. Deepwater is a truly elegant choice and compliments interiors with cool colours or neutral hues such as grey, cream and stone. The decorative elements of the Ocean Treasures design come to life on the dark background.
Ocean Treasures Designer Velvet Fabric in vibrant Blue Bay
Blue bay is a fabulous rich petrol blue, with joyful highlights of turquoise and bright orangey coral. Blue bay is a striking choice to create a focal point within an interior of cool tones, blues, peaches or crisp white. This colour way also works well with natural wood tones.
Ocean Treasures Designer Velvet Fabric in statement Red Reef
Red Reef is a statement colour palette which brings drama and the wow factor to a living space. The sumptuous velvet is a rich red background, with turquoise, electric blues, charcoal and silvery grey. Enjoy creative interior choices with this dramatic colour palette which invites you on a journey of discovery into an impeccably detailed underwater world on velvet. Create a focal point in a living space with the Red Reef colour palette.
Why Choose Ocean Treasures Velvet Fabric for Interiors?
The Ocean Treasures Velvet Fabric offers several benefits in addition to the exquisite design:
Irresistibly Tactile: The Ocean Treasures Fabric isn't just visually stunning - it's also soft to the touch. The velvety texture adds an extra layer of luxury and comfort to your upholstery and soft furnishings.
Artistic Inspirations: This designer fabric showcases exquisite artwork, with an expressive design which offers a unique take on ocean inspirations. Intricate marine motifs transport you to an underwater world through a fittingly dramatic design borne out of a love of the ocean. Ocean Treasures offers a visual treat for all who enjoy marine life and coastal aesthetics.
Versatile: Ocean Treasures Velvet is a versatile fabric suitable for various applications, from upholstery to curtains, blinds, and all soft furnishings. Its adaptability makes it an excellent choice for a coastal property, offering the opportunity to coordinate various aspects of the interior.
Quality Material: Crafted from 100% Polyester, this fabric is not only timelessly beautiful but also durable. Durability to withstand everyday use ensures that your coastal themed interior can remain pristine and enjoyed for years to come.
Embrace Coastal Inspirations for Beautifully Memorable Interior Decor
Ocean Treasures Velvet Fabric offers an opportunity to infuse your coastal interior with both elegance and creativity. Coastal interior design is a timeless choice that brings the serenity of the sea into your home. With Ocean Treasures Velvet for soft furnishings, curtains, blinds or upholstery, you can take your coastal-themed interior to a whole new level of sophistication. The luxurious feel and exquisite artwork on velvet make it a standout choice for upholstery and soft furnishings.
Transform your living space into a coastal haven, where the allure of the ocean is always close at hand. Explore Ocean Treasures Velvet Fabric and embark on creating your perfect space.