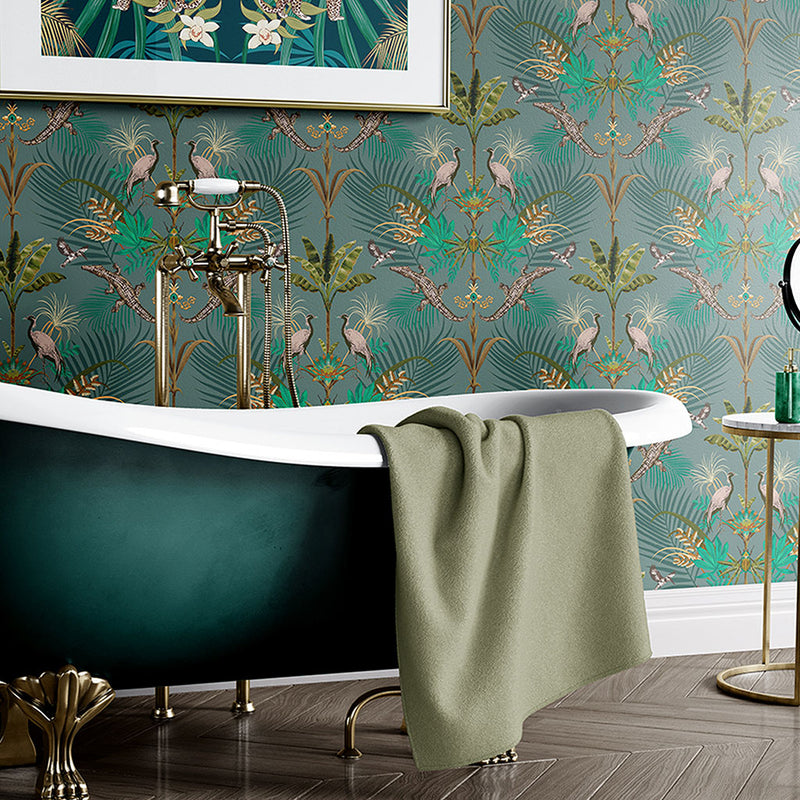 Can I Use Wallpaper in a Bathroom? Yes! Here's How to Get the Best Results
Wallpaper can be used in a bathroom to make a statement in an interior and to add character to your space. Bathrooms vary in their level of moisture and humidity, dependent on a number of factors; The available ventilation in a bathroom makes a significant difference to the level of moisture within a space. The size of the room will also have an impact, with smaller spaces being more prone to the effects of moisture. People often wonder if they can use wallpaper in a bathroom, given the moisture and humidity routinely produced in these areas of our homes, and there is a very simple, tried and tested way to protect your wallpaper – used by professional decorators but simple enough for DIY'ers - ensuring that it stays looking fabulous on the wall. 
Why Choose Wallpaper for a Bathroom?
A fantastic way to add colour and pattern into the space, we have seen a great increase in the bold choices being made for bathroom decor by interiors enthusiasts, with our social media feeds filled with stunning examples. Wallpapering a bathroom can create a luxurious atmosphere for when you're refreshing and relaxing in there, whilst any guests will love to admire this touch of individuality to your home. Whether you choose darker, dramatic hues to envelope yourself in an opulent cocoon, or fresh, botanical inspired greens for a relaxing vibe, bringing your own style into the bathroom via wallpaper, is a wonderful way to add a special touch to this part of our homes.
When we are looking to bring a particular aesthetic into a space, wallpaper is a dramatic way to bring in a coherent style. We might want to make a luxurious statement in our bathroom or powder room, bringing in drama with a bold, floral wallpaper design. It may be that we choose a soft colour palette to create a serene atmosphere. Whichever style we are looking to introduce, we can seek out a luxury designer wallpaper to fulfil our aim. We could look to tile or paint the bathroom, but nothing adds the wow factor quite like a beautiful wallpaper.
Is it Practical to Use Wallpaper in a Bathroom and How Can I Protect it from Moisture?
Naturally, it's very important to consider practicalities. Knowing that bathrooms are typically damp and humid environments, we don't want our carefully chosen wallpaper to look anything other than it's very best on the wall. Of course, we want to feel reassured that our interior design choice will stand the test of time.
Often our favourite designer wallpapers are not a vinyl wallpaper which is designed to withstand moisture without further treatment – rather they are often artful luxury papers, with shimmer, texture or a pearlescent finish. These wallpapers can add to your space in a way that vinyl wallpapers cannot replicate. Many designer wallpaper materials are not designed specifically for a space with moisture, however, that need not be a problem at all. Fortunately, there are products on the market which are simple to use and can give us that all important beautiful result in a bathroom - along with peace of mind.
What Products Will Ensure That my Bathroom Wallpaper is Protected From Water?
The use of a decorator's varnish, as is routinely recommended by professional decorators, is a simple method which means that we have the freedom to choose a design we love, beyond the constraints of a vinyl wallpaper. When it comes to decorating a bathroom with wallpaper, a decorator's varnish is a product which will provide the protection from moisture that we need. A decorator's varnish is a recommended method to use with designs in the Becca Who Wallpaper Collection – a range of uncoated, non-woven wallpapers.
Decorator's varnish is a clear, protective coating that is applied over a wallpaper to make it resistant to moisture and to prevent it from being damaged or becoming discoloured. There are several types of decorator's varnish available and we ought to look for one which is specifically deisgned to be used in a bathroom or other humid environment. Choose a varnish that is resistant to moisture and has a high level of durability.
A good clear decorator's varnish will protect your wallpaper from moisture, stains, scuffs and soaks, have low odour and V.O.C., whilst also containing biocides which protect against mildew or fungi. Often they are water-based and are actually suitable for use on a range of surfaces. The most popular products are acrylic varnishes and have fast drying and re-coat times.
Is a Decorator's Varnish Easy To Apply To the Wallpaper?
Applying a decorator's varnish is quite straight forward. The varnish should be applied evenly, using a brush, roller or spray, to cover all of the surface of the wallpaper. It is important to ensure that the wallpaper is completely dry and clean before application. Always carefully follow the manufacturer instructions of your chosen decorator's varnish.
Will a Decorator's Varnish Affect the Finish of the Wallpaper on the Wall?
A good decorator's varnish will dry to a clear finish over your wallpaper. You can choose a dead flat finish to preserve the finish of you wallpaper, which is not apparent on the wall and will allow any features of the wallpaper, such as sheen, shimmer, pearlescent or texture, to show through beautifully. Decorator's varnishes are also available in satin or gloss finishes if you preferred to add a visible sheen to the finish, otherwise choose the flat for the least apparent result. Applied correctly, the decorator's varnish will ensure that you can enjoy your wallpaper for years to come.
Which is the Best Style of Wallpaper For My Bathroom or Powder Room?
Now that we know that we can choose wallpaper for the bathroom and protect it with a decorator's varnish, what style of wallpaper might be best? Of course, the style that you choose will depend on personal preference, but there are key factors which we can look at to establish what may work best in our space; As well as considering the atmosphere that we are looking to create, we can take inspiration from those existing features in our home which we would like to compliment. It may be that our house has period features or vintage elements of decor which we would like to enhance and therefore we can look at traditional, floral or vintage inspired wallpaper designs. We might look to soften minimalist, clean lines in our space by adding a bold pattern or rich colour. Botanical inspired designs compliment wood and plants in the room, whilst softening metallic elements amongst our fixtures and fittings. Wallpaper with metallic or pearlescent elements can add a luxurious finish to the space and catch the light beautifully.
We ought to also consider the size of the room. Smaller scale patterns work wonderfully in compact bathrooms and powder rooms, where a larger scale might overwhelm the space. Small patterns can be a fabulous choice when we are looking to wallpaper all of the walls in a small bathroom. Darker hues can be a dramatic way to embrace a small space and to create a decadent, cocooning feel to the room. If we want to make a smaller bathroom feel larger and airy, we might choose a lighter colour palette. In larger rooms, we might be more inclined to select a larger pattern to add depth and interest.
In terms of colour choices for wallpapers, we can again look at other features in the space and choose palettes which will compliment any wood or tiles that we are looking to enhance. A white bathroom suite is versatile and works well with a variety of colour palettes, from vibrant, colourful designs which create impact, earthy tones to bring warmth, greens to enhance the restful, calming atmosphere or darker colours to create a rich contrast.
Now that you know how to feature a wallpaper in a bathroom with the peace of mind that it will be protected from moisture by using a decorator's varnish, take a look at the full collection of luxury wallpapers by Becca Who. head to the Wallpaper Samples page to choose your samples.
If you want to learn more about the various benefits of choosing a luxury designer wallpaper, read our blog: Luxury Designer Wallpapers; The Key to a Beautifully Bold, Maximalist Interior.